TikTok Was the #1 Most Downloaded App in Q1 & Q2 of 2021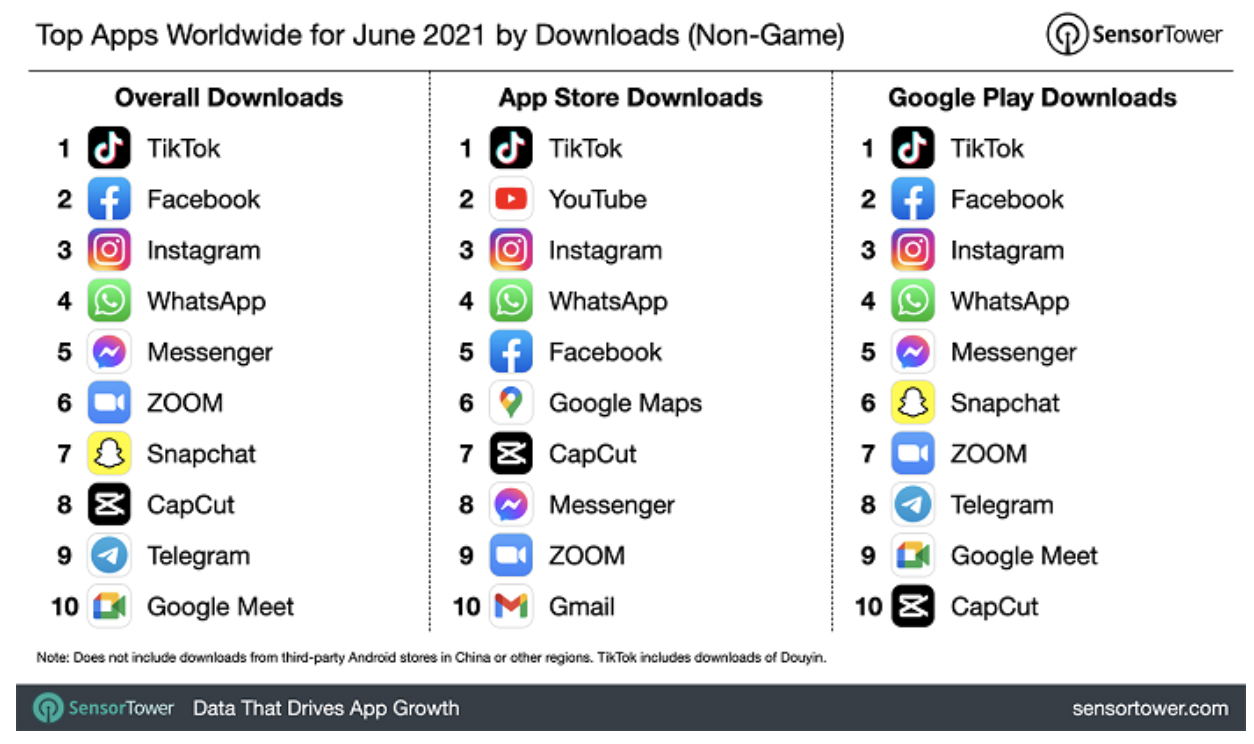 While Facebook still claims the most ownership of the top five spots, TikTok continues to see incredible growth. It most likely won't ever catch up to Facebook alone, but could match Instagram if it continues to attract new users at this rate.
Never a fan of fleeting trends, I'm not suggesting that you run out and make TikTok a primary focus in your marketing strategy. What I AM suggesting is that you pay a lot of attention to the type of content on TikTok, who is using it, brands that partner or invest ad money, creator tools, and how TikTok treats SMBs (small and medium businesses). Just as Clubhouse is the current leader in social audio, TikTok is paving the path for short-form video.

From podcasters to coaches to ecommerce businesses, I am helping owners and entrepreneurs understand how to integrate video into their marketing strategy. There is so much to developing a strong TikTok plan, so this blog is not an exhaustive tutorial, but an update to help you understand the relevance and growing importance of using video.

TikTok Resumes
TikTok is partnering with companies like Chipotle to improve the opportunity to reach potential employees as well as minimize barriers to the application process. Create a video resume of up to three minutes, upload to TikTok, then use the hashtag #tiktokresumes
This is very cool, not just for larger corporations, but also you as a business owner. You can potentially find people to work with or for, as well as individuals you may want to hire.

Small and Medium Business Focus
TikTok understands that a lot of small and medium-sized businesses spend money on ads. While Facebook has been a great place to put our money, this may be the better opportunity over the coming months. Webinars and virtual summits have been increasing to share tools for SMB users and collect feedback to enhance the tools you have access to. Here is a little more info to read

Introducing Three-Minute Videos
Are 15-second videos a thing of the past? Marketing research shows that Gen Z has the shorter attention span yet. The positive side for digital natives is that they also have an incredible ability to quickly process a LOT of information. So while you may think that a longer video is better, the question you should be asking yourself is how quickly can you communicate your message?
Minimize your words. Share the highlights. Give people a reason to return or take the next step. Don't waste your time or theirs.
Testing the App
Wondering if TikTok is right for you? Posting 1-2 videos per week will engage minimal followers and probably make you assume it's not the place for you. Every social media platform has its own culture and algorithm. TikTok works well when you post AT LEAST once a day, preferable 3-4 times.
Don't panic, these videos do not have to be highly produced and 3-4 videos can be completed in 10-15 minutes once you get the hang of it. If you're interested in learning the basics of short form video I have a mini-course for TikTok & Reels. Use code SUMMER21 for 21% off any course.